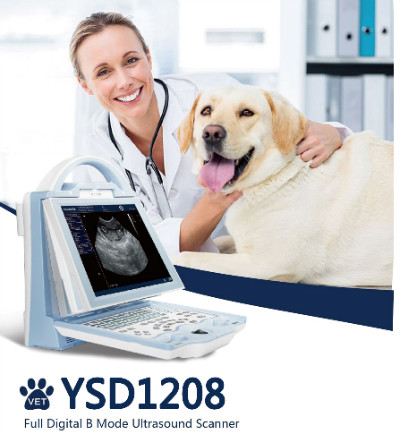 Technical Parameter
10.4' high resolution color LED backlight display, with high contrast and wide viewing angle;
Adopt ARM7 embedded control system +FPGA signal processing system + well selectd ultrasound hardware system, all make the unit more stable.
Menu operation system, with different languages according to requirement including Spanish, English, French, Russian and Portuguese;
Two probe sockets, auto-identify different optional probe;
Body marks:1.General 2. Bovine 3.Canine 4.Equine 5.Feline 6.Cardio 7. Swine, total 27 kinds body marks indicating probe position;
Display mode:B、2B、4B 、B/M、M ;
Adjustable depth: 10 grades, max depth to 236mm;
Gain:0~127dB;
Contrast:27~90dB;
Gray scale:256;
8 steps intelligent TGC;
8 kinds pseudo colors;
Image storage: 4G hard disk to permanently store about 5000 frames images;
Cine loop:256 frames;
Puncture guide function with 2 correctable puncture guiding lines(adjustable angle & position);
the gravel software package with real-time position line measurement
Normal measurement: Distance, circumference, area (trochoid or ellipse), volume, etc.
Cardio measurement:Depth, slope, heart rate, cycle;
OB measurement including: Cattle, dogs, horses, cats, goats, camels and sheep and pre-gestational age birth;
Other measurement: pig's meat factor measurement;
OB repor function;
One-key store: concise and practical;
One-key review:fast, practical image review function;
One-key Print;
One-key Transfer the current frozen image to net workstation to complete its image text repor and print directly;
Concise and practical, easy operation. The system includes network workstation to complete data & repor management (You don't need to invest more to buy extra ultrasound working station);
Unique One-key-light keyboard function for black room use;
Display brightness adjustable;
Dual TV output: PAL/NTSC, can connect video printer when necessary;
Power supply:100-240V~ 1.2-0.6A frequency:50-60Hz;
Power supply adaptor output:DC12.8V 3.0A;
Main unit weight:4.5kg(without accessories);
Main unit dimension:256×150×326mm(L×W×H);