Suit for:
Veterinary, farmer, breeder.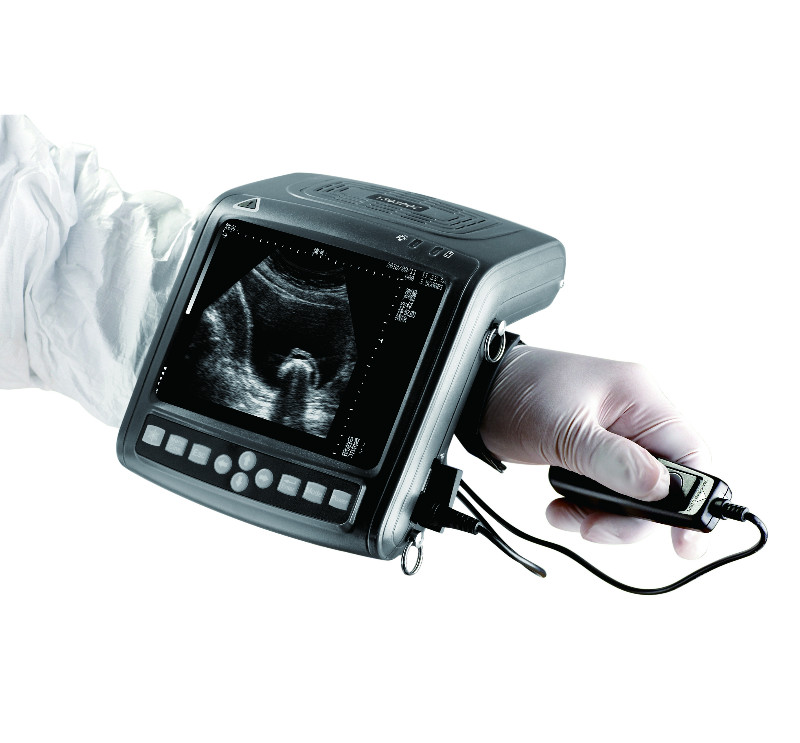 Application:
Designed widely for diagnosing of pregnancy, fertility and disease on bovine, equine, ovine, canine, feline, goat, swine, llama and other animals.

Features:

Wrist design: truely innovative.

Smart and light : 5.7" high resolution color LCD , 1.1kg weight.

No fan: Avoid cross-infection for virus.

2 pcs Internal li-battery: work for 5 hours.

USB port: directly store image to U disk.

Gridding calculate: quick measure by eye.

Accessory: a lot of optional parts for customer different use habit.
Technical Specification
Adopt ARM7 Embedded Control Systems and proprietary miniaturization technology of ultrasonic hardware system.
5.7" High resolution color LCD, high brightness, high contrast, wide visual, suitable for outdoor use.
Language: Chinese/English switchable.
Single probe socket, automatically identify the probe, support several optional probes.
Body mark: 1. general use 2.bovine 3.canine 4.equine 5.feline 6. Cardiology, 7.swine---7 kinds, total 27 pcs of body marks with probe position.
Display mode:B、2B、4B 、B/M、M, total 5 kinds.
8 kinds of Magnification, maximum display depth is 240mm.
Gain range:0~127dB
Dynamic range:27~90dB
Gray:256
Intelligent TGC control: near-field and far-field adjustment
Adjustable and intelligent focus.
Frame frequency:30 frames/second.
Pseudo-color: 8 kinds (incl. B/W).
Permanent image storage: 100 frames.
Cine loop:256 frames.
Puncture guiding function( 2 guiding lines, angel and position adjustable)
Probe model:electronic convex and linear
Elements of probe:80
USB port support one-key storage image to USB and color laser printer directly print various image and repors.
Dual-mode TV output:PAL/NTSC, connecting to thermal printer and ultrasonic working station.
Net weight:1.1kg.
Main unit size: 155x180x80mm(length x width x height).
Image storage:
100 frames permanent image storage, without loss when power off.
USB port support one-key storage image to U disk.
Measurement and analysis:
General measurement:distance、Perimeter, area (trace method, ellipse method), volume, etc.
Cardiac measurement: depth, slope, heart rate, time.
OB measurement: EDD and GA for Bovine, equine, ovine, canine, feline, goat, swine and llama.
Gridding calculate, let customer simply calculate the measure result by eye, save time, convenient.
Other measurement: Automatically calculate the Back fat and Lean percentage of swine .
OB repor function
Automatically save the last parameters, customer can directly use it on next time.
Power supply:
Battery: high-capacity lithium Battery( 2400MAh) . Two pcs battery can work than 5 hours.
Power:AC110/230 -15%~+10%(self-adaption supply voltage) 60/50Hz±1Hz.